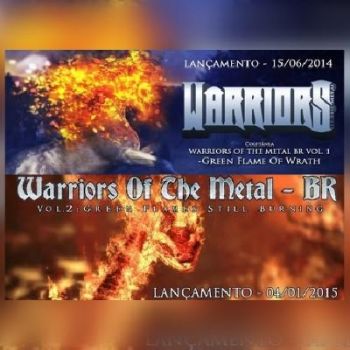 Сategory: Heavy
Style: Various
Country: Brazil


2014 – Warriors Of The Metal – BR Vol. 1 – Green Flame Of Wrath
01. King of Bones – We Are The Law
02. Cangaço – Bombardeio No Ceará
03. Glitter Magic – Bad For Health
04. Deathraiser – Violent Aggression
05. Arandu Arakuaa – Auê!
06. Angels Holocaust – Crystal Night
07. Dynahead – Hallowed Engine
08. Abiosi – Acorda Playboy
09. Ankhalimah – Edge of Madness
10. Hagbard – Let Us Bring Something For Bards To Sing
11. Panzer – Burden of Proof
12. Mork – Alastor
13. Atheistc – Killing My Religion

2015 – Warriors Of The Metal – BR Vol. 2 – Green Flames Still Burning
1. Armahda – Paiol Em Chamas
02. Hate Handles – Deceived
03. Sonic Dash – The Killing Joke
04. Jackdevil – Thrash Demons Attack
05. Kernunna – Kernunna
06. D.A.M. – Fear (Lunar Body)
07. Barbaria – Blackbeard
08. Hard Desire – Suicidal
09. Bad Salad – Crowded Sky
10. Mork – Sacrifice
11. Vandroya – Within Shadows
12. Optical Faze – One Way Path
13. Perc3ption – Surrender
Download album from UseNet -14 Days Free Access !
Various Artists – Warriors Of The Metal – BR (Vol.1 & Vol.2) 2014-15
More than 800 TB of files are available. Usenet was developed before the Internet and is made up of over 60,000 discussion forums (Newsgroups) on any conceivable topic, in which opinions and files (e.g. videos, MP3s, software, games and erotic contents) can be exchanged.

| | | | |
| --- | --- | --- | --- |
| Buy mp3 or CD | | or | |