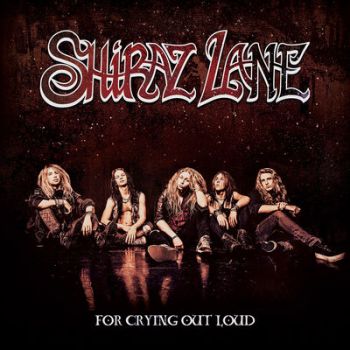 In mid-April release of the Finnish hard rock band Shiraz Lane's debut album "For Crying Out Loud" via Frontiers Records and this can be read in a press release:

Frontiers Music Srl is proud to present the debut album from Shiraz Lane, entitled "For Crying Out Loud", which will be released on April 15, 2016.
Formed in 2011, Shiraz Lane is a young, energetic, ambitious, authentic hard rock group from Vantaa, Finland. Although wearing inspiration from big masters like Aerosmith, SKID ROW and Guns N' Roses on their sleeves, the band has a sound and style all their own. Members of some of the biggest bands in Scandinavia – The 69 Eyes, Amorphis, Children Of Bodom, Lordi and Sonic Syndicate Official among others – have all described Shiraz Lane as being one of the most entertaining bands they have ever seen in the underground music scene, bringing something new to the table in terms of both music and live performance! Notwithstanding their young age (the band members are all in their 20's), the guys are already veterans of the underground circuit in their homeland and have developed a reputation for being uncompromising, loud and genuine.
"We started working on our debut album in mid-August 2015 after receiving confirmation about details and deadlines from Frontiers Music Srl" says guitarist Miki Kalske. "We were actually extremely busy at the time since we did an extensive Finnish tour in September, so the Shiraz factory was working pretty much around the clock. In retrospect it was good to have a tight agenda, since the songs came out very naturally and with a steady pace. After we felt confident enough with the songs, we joined forces with our producer Ben Varon and analyzed them meticulously, re-arranged parts, rehearsed, re-rehearsed etc. Before hitting the studio to lay down the final tracks."
On the final result, "For Crying Out Loud", the band shows they have learned all the tricks in the book and they're now ready to take on the world.
"The album is not conceptual, but it is definitely a tight knitted package so that every song has its own natural place in the running order" continues Kalske. "All in all the record turned out to be an ass-kicking Hard Rock gem with a large scope of different emotions and feelings included. Variety would be a good key word to describe the album throughout, although bowing down to our own sound and style. An important notion would be to listen to the lyrics and message we are trying to send to the listeners out there – we don't wan't to preach, but if our music can act as an eye-opener on some level and send positive vibrations out to the world during these darker times, I would say we have done something right!"
Shiraz Lane debuted with a two song single release, "Out There Somewhere" and "Money Talks" in October 2014. The band expanded upon those two tracks to release a five track EP, "Be The Slave Or Be The Change" in the spring of 2015. It was extremely well received by both the public and the press in Scandinavia and the single "Mental Slavery" could even be described as an underground hit. Following the EP release, the band has put out four music videos, played the biggest Finnish summer festivals and also performed in places like Toronto, Canada, Finland Fest in Tokyo Japan and Wacken Open Air in Germany. In the autumn of 2015, Shiraz Lane did an extensive national tour supporting fellow countrymen Santa Cruz. Although music is not a matter of competition, it should be mentioned the band won the Hard Rock Rising 2014 and Wacken Metal Battle 2015. The hype culminated with an international record deal with Frontiers Music Srl, which was signed and sealed in September.
"We have grown to fill the boots of the endangered Dinosaurus of Rock and continue the legacy of authentic, rocking and meaningful music" concludes Miki Kalske. "We are thrilled to let you guys experience a full-length insight in our musical minds and assure that this is going to be the best possible news for the fans out there after a heartsick and grieving turn of the year. Heads up and play this record loud and proud – we certainly will!"
"For Crying Out Loud" tracklisting includes: Wake Up; Momma's Boy; House Of Cards; Begging For Mercy; Same Ol' Blues; Mental Slavery; Behind The 8-Ball; For Crying Out Loud; Bleeding; M.L.N.W. – Kill Me (With Your Love) (Bonus track digital version)
01. Wake Up
02. Momma s Boy
03. House of Cards
04. Begging for Mercy
05. Same Ol' Blues
06. Mental Slavery
07. Behind The 8-Ball
08. For Crying Out Loud
09. Bleeding
10. M.L.N.W
SHIRAZ LANE
Hannes Kett – Lead Vocals
Jani Laine – Lead Guitar
Miki Kalske – Rhythm Guitar
Joel Alex – Bass
Ana Willman – Drums
Download album from UseNet -14 Days Free Access !
Shiraz Lane – For Crying Out Loud 2016
More than 800 TB of files are available. Usenet was developed before the Internet and is made up of over 60,000 discussion forums (Newsgroups) on any conceivable topic, in which opinions and files (e.g. videos, MP3s, software, games and erotic contents) can be exchanged.

| | | | |
| --- | --- | --- | --- |
| Buy mp3 or CD | | or | |