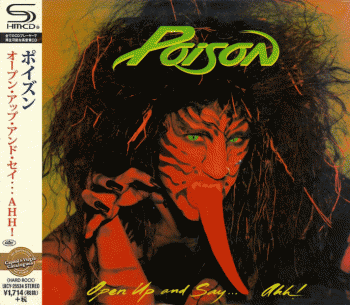 Poison's 1988 follow-up found the band a lot more polished and taking a better grasp of the genre they were slowly starting to command. The production on the second album was cleaner and stood out more thanks to Tom Werman (Twisted Sister, Mötley Crüe) expertise hands. Paul Stanley from Kiss (whose song Rock and Roll All Nite had been covered by Poison the year before) was originally selected to produce the record, but was unable to fulfill the role due to scheduling conflicts.
01 – Love On The Rocks
02 – Nothin' But A Good Time
03 – Back To The Rocking Horse
04 – Good Love
05 – Tearin' Down The Walls
06 – Look But You Can't Touch
07 – Fallen Angel
08 – Every Rose Has Its Thorn
09 – Your Mama Don't Dance
10 – Bad To Be Good
BONUS TRACKS:
11 – Livin' For The Minute
12 – World Premiere Interview
Bret Michaels – vocals, guitar, harmonica (track 4)
C.C. DeVille – lead guitar, background vocals, keyboards
Bobby Dall – bass, background vocals
Rikki Rockett – drums, background vocals
additional musician:
John Purdell – keyboards
thx mr.Sandford
turbo pass:plotn08
Download album from UseNet -14 Days Free Access !
POISON – Open Up And Say…Ahh! [Japan SHM-CD Remastered] (2015)
More than 800 TB of files are available. Usenet was developed before the Internet and is made up of over 60,000 discussion forums (Newsgroups) on any conceivable topic, in which opinions and files (e.g. videos, MP3s, software, games and erotic contents) can be exchanged.

| | | | |
| --- | --- | --- | --- |
| Buy mp3 or CD | | or | |