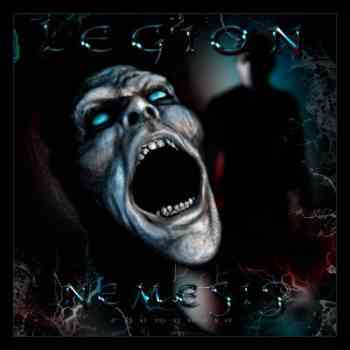 The third album from Legion and what a ballsy slab of hard driving rock, as once again we see Vince O'Regan on guitars, Phil Vincent on vocals, Gavin Cooper on bass and fellow Dianno member Steve Hopgood on drums for the third and best Legion yet. With Vince O'Regan producing another riff laden assault and Phil Vincent again providing the text book, hard rock vocals, this is one of Z Records best unifications in recent years.
The album opens up with the edgy intro and title track 'Nemesis', before kicking off with the riff laden 'Seems Like Yesterday', with Vincent's smooth vocals backed by O'Regan's great guitars, all the while Hopgood and Cooper deliver a rock solid foundation. The album continues to impress with 'Lay It On The Line', with an opening riff that reminds be of the Dio classic 'We Rock'. It's only when Vincent's vocals come in that you realise this is an original slow burning melodic rocker.
O'Regan leads the way on the multi-levelled melodic hard rocker 'Sea Of Sorrow', on which Vincent's majestic tones really bring this one to life, as does O'Regan's great guitar work as his fingers caress the fret board.
The melody driven hard rock continues with the haunting tones of 'Its Never Enough' and the smouldering ballad 'Goodbye', before things really pick up with the excellent 'Just Because', and the equally impressive riff spewn splendour of 'Walk Through Fire', as O'Regan is really let loose and puts together some of the best licks on the album.
The big rock songs just keep on coming with one of my favourites off the album, the ripping anthem 'Make Some Noise'. Big riffs run throughout this old school rocker and to say I can't wait to hear this one played live is no understatement.
The album closes in epic style with 'Obsession', another multi-layered rocker that takes you on a roller coaster ride of chunky bass lines, powerhouse drums, dipping and soaring melodies, both vocally and from the guitars. This one has a definite classic Dokken feel about it and wraps up another fantastic Legion album. If liked the previous two offerings by the band, then you're gonna love this one!
1. Nemesis
2. Seems Like Yesterday
4:46
3. Lay It On the Line
4:52
4. Sea of Sorrow
4:48
5. Never Enough
4:48
6. Lost in Love
6:24
7. Just Because
4:58
8. Walk Through Fire
5:17
9. Make Some Noise
5:18
10. Obsession
Password: Plotn08
Download album from UseNet -14 Days Free Access !
Legion – Nemesis (2012)
More than 800 TB of files are available. Usenet was developed before the Internet and is made up of over 60,000 discussion forums (Newsgroups) on any conceivable topic, in which opinions and files (e.g. videos, MP3s, software, games and erotic contents) can be exchanged.

| | | | |
| --- | --- | --- | --- |
| Buy mp3 or CD | | or | |