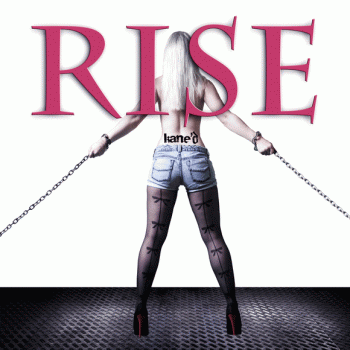 Swansea, UK – Girl-fronted rockers, Kane'd have released their second album, 'Rise'. The Swansea band, who are uniquely led by three sexy sisters from Glynneath are gearing up to set the world on fire with their scorching new album.
This album symbolises a metaphorical phoenix rising from the ashes for the band, who see it as a chance to showcase their real rock roots. "The album is about starting over and 'rising' from the things that held us back during the recording of the 1st album.
On naming the album Steph said: "Originally we were going to name the album 'Covered In Roses'. But then we wrote and recorded the last song 'Rise' and we thought that it was a more fitting title. The band have poured their heart and soul into this album and this fire is apparent in the recording. You can hear the band's burning desire to take control of their creative direction in the album's lyrics:
"If you listen to the lyrics you can interpret that it's about listening to everybody else's opinions to the point where you are driven a little crazy and you are not sure who you are any more."
"It is the first time that we have made all the decisions and that is reflected in some of the lyrics," said Stephanie. "La Di Da was the first song we wrote and it was written because of those reasons.
The band have a wide range of influences, from classic 80s rock chicks such as Pat Benatar and Vixen to female punk rockers Blondie. 'We take inspiration from lots of different bands, from Halestorm to the likes of Blondie and even Steel Panther'
And they're album bears witness to this cornucopia of influences: "We wanted to bring lots of different elements to the album. We have our emotional songs but we have also recorded some fun, crazy, wild songs and we hope everyone connects to those too."
01 – Hero
02 – La Di Da [Explicit]
03 – Covered In Roses
04 – Guilty Of Nothing
05 – Wasted
06 – Love Her Madly [Explicit]
07 – Watch Me
08 – Frozen
09 – 3-2-1
10 – Rise
Stephanie, Stacey and Chez Kane: vocals
Harry Scott Elliott: guitars
Alex Rees: bass
George Elliott: drums
Password: Plotn08
Download album from UseNet -14 Days Free Access !
Kane'd – Rise (2015)
More than 800 TB of files are available. Usenet was developed before the Internet and is made up of over 60,000 discussion forums (Newsgroups) on any conceivable topic, in which opinions and files (e.g. videos, MP3s, software, games and erotic contents) can be exchanged.

| | | | |
| --- | --- | --- | --- |
| Buy mp3 or CD | | or | |