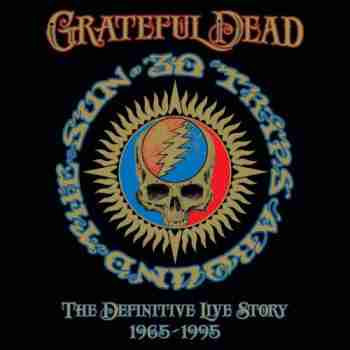 The Grateful Dead were an American rock band formed in 1965 in Palo Alto, California.[1][2] Ranging from quintet to septet, the band was known for its unique and eclectic style, which fused elements of country, folk, bluegrass, blues, reggae, rock, improvisational jazz.
CD1
01. Caution (Do Not Stop On Tracks) (feat. The Emergency Crew) [03:15]
02. Cream Puff War (Live at Fillmore Auditorium, San Francisco, CA 7/3/66) [05:07]
03. Viola Lee Blues (Live at Shrine (Exhibition Hall, Los Angeles, CA1/10/67) [15:14]
04. Dark Star (Live at Greek Theater, Berkeley, CA 10/20/68) [10:29]
05. Doin' That Rag (Live at Dream Bowl, Vallejo, CA 2/22/69) [06:50]
06. Dancing In The Street (Live at Winterland, San Francisco,CA 4/15/70) [11:29]
07. Ain't It Crazy (The Rub) (Live at Fox Theater, St. Louis, MO 3/18/71) [04:40]
08. Tomorrow Is Forever (Live at The Palace Theater, Waterbury, CT 9/24/72) [05:30]
09. Here Comes Sunshine (Live from San Diego Sports Arena 11/14/73) [12:58]
CD2
01. Uncle John's Band (Live from Parc des Expositions, Dijon, France 9/18/74) [09:26]
02. Franklin's Tower (Live From Lindley Meadows, Golden Gate Park, San Francisco 9/28/75) [07:50]
03. Scarlet Begonias (Live at Cobo Hall, Detroit, MI 10/3/76) [11:58]
04. Estimated Prophet (Live at Capital Theatre, Passaic, NJ 4/25/77) [07:58]
05. Samson And Delilah (Live at Providence Civic Center, Providence, RI 5/14/78) [10:18]
06. Lost Sailor>Saint Of Circumstance (Live at Cape Cod Coliseum, South Yarmouth, MA 10/27/79) [12:26]
07. Deep Elem Blues (Live at Lakeland Civic Center, Lakeland, FL 11/28/80) [04:57]
CD3
01. Shakedown Street (Live at Cornell University, Ithaca, NY 5/16/81) [16:31]
02. Bird Song (Live at Manor Downs, Austin, TX 7/31/82) [09:42]
03. My Brother Esau (Live at The Centrum, Worchester, MA 10/21/83) [05:21]
04. Feel Like A Stranger (Live at Agusta Civic Center, Agusta, ME 10/12/84) [10:06]
05. Let It Grow (Live at River Bend Music Center, Cincinnati, OH 6/24/85) [12:38]
06. Comes A Time (Live at Cal Expo Amphitheatre, Sacramento, CA 5/3/86) [07:51]
07. Morning Dew (Live at Madison Square Garden, New York, NY 9/18/87) [11:21]
CD4
01. Not Fade Away (Live at Oxford Plains Speedway, Oxford, ME 7/3/88)[08:00]
02. Blow Away (Live at Miami Arena, Miami, FL 10/26/89)[07:51]
03. Ramble On Rose (Live at Zenith, Paris, France 10/27/90)[07:30]
04. High Time (Live From Madison Square Garden, New York, NY 9/10/91)[07:37]
05. Althea (Live at Copps Coliseum, Ontario Canada 3/20/92)[07:28]
06. Broken Arrow (Live at Knickerbocker Arena, Albany, NY 3/27/1993)[06:02]
07. So Many Roads (Live at Boston Garden, Boston, MA 10/1/94)[07:28]
08. Visions Of Johanna (Delta Center, Salt Lake City, UT 2/21/95)[10:20]
Download album from UseNet -14 Days Free Access !
Grateful Dead – 30 Trips Around the Sun: The Definitive Live Story 1965-1995 [4CD Box Set]
More than 800 TB of files are available. Usenet was developed before the Internet and is made up of over 60,000 discussion forums (Newsgroups) on any conceivable topic, in which opinions and files (e.g. videos, MP3s, software, games and erotic contents) can be exchanged.

| | | | |
| --- | --- | --- | --- |
| Buy mp3 or CD | | or | |