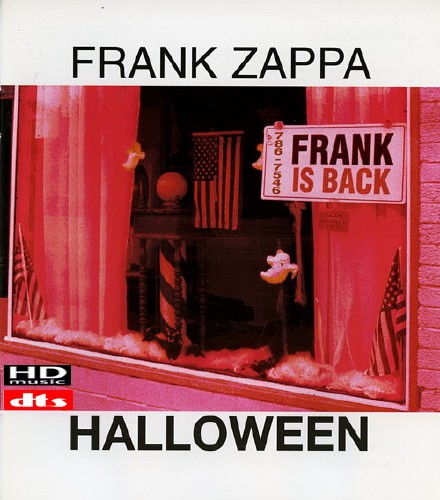 Frank Zappa – Live in New York: Halloween 1978 (2003) DTS 5.1
Genre: Progressive Rock,Experimental rock
Quality: DTS 5.1 96 kHz 1536 kbps 24 bit
Time: 01:10:22
Full Size: 760Mb
Frank Zappa

was a true musical genius–of course, … Full Descriptionone often hears that term bandied about regarding any moe who can sing and string two dozen words together, but Zappa was the real deal. He was a killer guitarist who composed and played rock & roll, jazz, R&B, and classical music, wrote absurdly, viciously funny satirical songs, and did "rock theatre" when Alice Cooper was still in middle school.
Setlist:
1. NYC Audience (1:17)
2. Ancient Armaments (8:23)
3. Dancin' Fool (4:35)
4. Easy Meat (6:03)
5. Magic Fingers (2:33)
6. Don't Eat the Yellow Snow (2:25)
7. Conehead (4:01)
8. "Zeets" (2:59)
9. Stink-Foot (8:51)
10. Dinah-Moe Humm (5:27)
11. Camarillo Brillo (3:14)
12. Muffin Man (3:34)
13. Black Napkins (The Deathless Horsie) (17:14)
Frank Zappa (lead guitar, vocal)
Denny Walley (guitar, vocals)
Tommy Mars (keyboards, vocals)
Peter Wolf (keyboards)
Ed Mann (percussion)
Arthur Barrow (bass)
Patrick O'Hearn (bass)
Vinnie Colaiuta (drums)
L. Shankar (electric violin)
http://faststore.org/wzbxorzu88cc/FRANK.ZAPPA_Live.In.New.York.Halloween1978.DTS5.1.24bit.96khz.mka
Download album from UseNet -14 Days Free Access !
Frank Zappa – Live in New York: Halloween 1978 (2003)
More than 800 TB of files are available. Usenet was developed before the Internet and is made up of over 60,000 discussion forums (Newsgroups) on any conceivable topic, in which opinions and files (e.g. videos, MP3s, software, games and erotic contents) can be exchanged.

| | | | |
| --- | --- | --- | --- |
| Buy mp3 or CD | | or | |