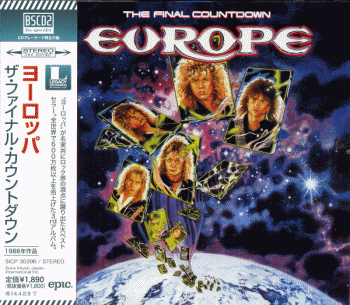 "The Final Countdown" is the other EUROPE album remastered and pressed on Blu-SpecCD2 by Sony Music Japan, also requested here in the blog's comments. The Blu-SpecCD2 is the next generation Compact Disc that employs Phase Transition Mastering, the technology developed for mastering of Blu-ray discs, to further perfect the acclaimed characteristics of Blu-Spec CD.

01 – The Final Countdown
02 – Rock The Night
03 – Carrie
04 – Danger On The Track
05 – Ninja
06 – Cherokee
07 – Time Has Come
08 – Heart Of Stone
09 – On The Loose
10 – Love Chaser
BONUS TRACKS:
11 – The Final Countdown (Live)
12 – Danger On The Track (Live)
13 – Carrie (Live)
Joey Tempest – vocals.
John Norum – guitars, backing vocals
John Levén – bass
Mic Michaeli – keyboards, backing vocals
Ian Haugland – drums, backing vocals
turbo pass:plotn08
Download album from UseNet -14 Days Free Access !
EUROPE – The Final Countdown [Japanese Blu-SpecCD2 remastered +3]
More than 800 TB of files are available. Usenet was developed before the Internet and is made up of over 60,000 discussion forums (Newsgroups) on any conceivable topic, in which opinions and files (e.g. videos, MP3s, software, games and erotic contents) can be exchanged.

| | | | |
| --- | --- | --- | --- |
| Buy mp3 or CD | | or | |