Finally one of the greatest Classic Rock albums of all time is released on high quality SHM-CD format; DIRE STRAITS "Brothers In Arms". "Brothers In Arms" previously appeared on a multi-channel SACD, however the mastering of that release is not to everyone's taste, considered rather bright and compressed by some.

01 – So Far Away
02 – Money For Nothing
03 – Walk Of Life
04 – Your Latest Trick
05 – Why Worry
06 – Ride Across The River
07 – The Man's Too Strong
08 – One World
09 – Brothers In Arms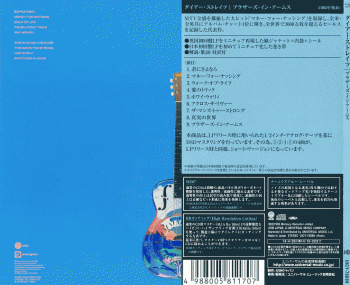 Mark Knopfler – guitars, lead vocals
John Illsley – bass, vocals
Alan Clark – keyboards
Guy Fletcher – synthesizer, backing vocals
Omar Hakim, Terry Williams – drums
Michael Brecker, Malcolm Duncan, Dave Plews – horns
Tony Levin – bass (stick)
Jimmy Maelen – percussion
Sting – backing vocals
Download album from UseNet -14 Days Free Access !
DIRE STRAITS – Brothers In Arms [Limited Edition SHM-CD remastered] 2014
More than 800 TB of files are available. Usenet was developed before the Internet and is made up of over 60,000 discussion forums (Newsgroups) on any conceivable topic, in which opinions and files (e.g. videos, MP3s, software, games and erotic contents) can be exchanged.

| | | | |
| --- | --- | --- | --- |
| Buy mp3 or CD | | or | |