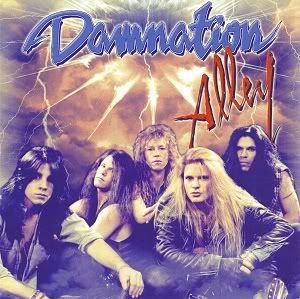 Demon Doll Records in conjunction with the hair metal machine DAMNATION ALLEY have cracked open the vaults to bring you some serious ass kickin, high heel wearing, Sunset Strip stompin Rock 'N' Roll. These guys had it all working from there hooks and looks singer Lance Haunrogue to the double axe attack of John E. Katz & David Leigh – these guys crank up the heat as well as the volume! Finally the 9 song DAMNATION ALLEY CD is available! Full of all the studio cut anthems such as "Psycho City", "Sticky Situation" ,"Seduction Sister", and "I've Got TO Be Free"; We have also managed to get our hands on a professionally recorded live show of the band including the never before heard songs, "Down 'N' Dirty", "Sex Machine", & Fake Integrity. The ferocity is endless as well as timeless!
Formed in the hair metal heyday of 1990, Damnation Alley had the chops to hang with the best of them! Supporting such great acts as Faster Pussycat, Atomic Playboys & Bang Tango as well as sharing the Sunset Strip stage with fellow Demon Doll artists Swingin' Thing, Blackboard Jungle & Alleycat Scratch to name a few. DAMNATION ALLEY could hold their own and then some. This is a great listen and one to surely rattle the walls if cranked up properly! We highly recommend this band and feel as though they did not get the credit they deserved for truly hitting the hair metal hammer on the head!
1. Psycho City
2. Seduction Sister
3. Sticky Situation
4. I Gotta Be Free
5. Down 'N' Dirty (Live)
6. Sex Machine (Live)
7. I Gotta Be Free (Live)
8. Fake Integrity (Live)
9. Seduction Sister (Live)
Retail CDRip
Ripped using Exact Audio Copy V0.99 prebeta 5
Encoded with Lame 3.98.4
Password: Plotn08
Download album from UseNet -14 Days Free Access !
Damnation Alley – Damnation Alley (2012)
More than 800 TB of files are available. Usenet was developed before the Internet and is made up of over 60,000 discussion forums (Newsgroups) on any conceivable topic, in which opinions and files (e.g. videos, MP3s, software, games and erotic contents) can be exchanged.

| | | | |
| --- | --- | --- | --- |
| Buy mp3 or CD | | or | |