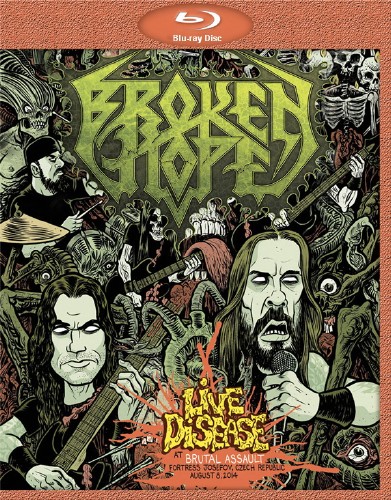 Broken Hope – Live Disease At Brutal Assault (2015) [BDRip 1080p]
Genre: Death Metal
Quality: MKV/BDRip 1080p
Video: MPEG4 H264 1920×1080 23.976fps 13.5 Mbps
Audio: AC3 48kHz 2ch 192kbps
Full Size: 2,64Gb
• It's been 24 years since Chicago's death metal favorites

Broken Hope

released their Swamped in Goredebut disc, and fans are about to get the first-ever concert and live album from the group. The disc is titled Live Disease at Brutal Assault and was filmed at the

Brutal Assault festival

in the Czech Republic in August 2014. The festival brought in over 20,000 fans and those catching Broken Hope's performance definitely showed their love for the group. Director Tommy Jones gives fans a look at the band's performance via a dozen pro cameras and the packaging includes some striking exterior and interior artwork from metal art master

Mark Rudolph

. Guitarist and founding member Jeremy Wagner says, "Playing Brutal Assault in 2014 was a dream come true. Being one of the Main Stage acts at the fest in front of those thousands of insane fans was also a huge dream come true. And then . above all that . we had this epic moment captured by a pro video crew and also recorded by the best soundman in the biz, and it made for a perfect storm that enabled us to put it together to share with metal fans the world over to enjoy forever!" He adds, "We couldn't have done all this without the mega-talent of Tommy Jones . Tommy took a million pieces of footage and numerous audio files, pieced them all together, aligned everything, edited it all, and made for us (and the world), an absolutely stunning concert Blu-ray.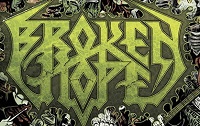 Setlist:
1. "Intro"
2. "The Docking Dead"
3. "Dilation & Extraction"
4. "Into the Necrosphere"
5. "Gore Hog"
6. "Swamped in Gore"
7. "The Dead Half"
8. "I Am God"
9. "He Was Raped"
10. "The Flesh Mechanic"
11. "Incinerated"
12. "Felching Vampires"
13. "End Credits" http://filespace.com/dir/nzgfz7873z
http://faststore.org/users/rubanoc/2568/%20Broken%20Hope_Live.Brutal
http://nitroflare.com/view/E231A88022D3B27/Broken.Hope_Live.Disease.At.Brutal.Assault_.2015.BDRip.x264.1080p.mkv
Download album from UseNet -14 Days Free Access !
Broken Hope – Live Disease At Brutal Assault (2015) [BDRip 1080p]
More than 800 TB of files are available. Usenet was developed before the Internet and is made up of over 60,000 discussion forums (Newsgroups) on any conceivable topic, in which opinions and files (e.g. videos, MP3s, software, games and erotic contents) can be exchanged.

| | | | |
| --- | --- | --- | --- |
| Buy mp3 or CD | | or | |