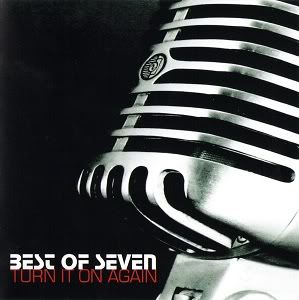 Formed in 1999 by Wicked Jester front-man Shane Tassart and Denny Smith, BEST OF SEVEN set out to take their stab at leaving an everlasting mark on pop culture, an attempt that would yield wildly mixed results.

Chased and surrounded by top notch engineers, producers and management, the band took to the stage supporting everyone from Buckcherry to Warrant all the while continuing to write and record one Rock radio anthem after another.
Eventually, frustrated with the industry runaround, and plagued by the resulting internal tensions, the original lineup parted ways, and the band faded back into the obscurity from whence it came, but not before leaving a vast wealth of unreleased studio material, which finally sees the light of day with the release of 'Turn It On Again' from Demon Doll Records.
Decidedly different from the rough and tumble Glam & Sleaze Rock of Wicked Jester, this material gravitates towards the more commercial sounding side of Rock – dripping in Pop radio style anthems the likes of Cheap Trick, Bon Jovi and the Foo Fighters, It is a very slick combination of Modern, Pop and Classic Rock.
Culled from sessions spanning 1999-2002, as well as recent collaborations between former members Shane Tassart and Denny Smith, recorded in 2009 and 2011, the collection includes the 2010 AVN Award-nominated "Kiss The Girl", available for the first time on CD, as well as over a dozen tunes that have never before seen official release, all remastered, and the subject of extensive liner notes that recall the origins of and circumstances surrounding each track.
If you're a fan of C.C. Deville and what he did with his band Samantha 7, this might be right up your alley!
Tracklist:
1. Know It's Over
2. Call My Name
3. Wonder
4. Underwhelmed
5. Kiss The Girl
6. Eggshells
7. Again
8. Her History
9. Beautiful Goodbye
10. Broken
11. Throwing It All Away
12. Sleep
13. Only In My Head
14. Hate
15. Hollywood
16. Anything
17. Climb
18. Untrue
19. I'd Do It All Again
Download album from UseNet -14 Days Free Access !
Best Of Seven – Turn It On Again (2012)
More than 800 TB of files are available. Usenet was developed before the Internet and is made up of over 60,000 discussion forums (Newsgroups) on any conceivable topic, in which opinions and files (e.g. videos, MP3s, software, games and erotic contents) can be exchanged.

| | | | |
| --- | --- | --- | --- |
| Buy mp3 or CD | | or | |