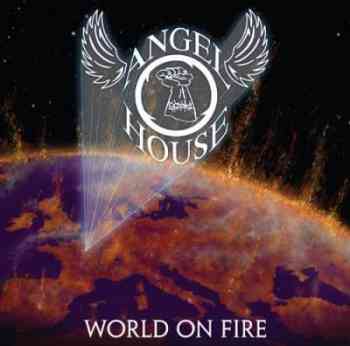 Angel House was formed in 2004 from the ashes of Birmingham band Franklin. They play Loud Hard Rock Music and have a strong reputation for always delivering an awesome live show. Combining their own original material with a couple of carefully selected covers, they worked the circuit supporting bands such as legendary American Rockers Mountain and Europe's number one Kiss tribute act Dressed To Kill.
They are prolific songwriters and in 2004 produced a 2 track single which included fan's favourite 'Superstitious Woman', which quickly sold out its first pressing through their website and at gigs alone. With airplay on BBC Radio WM, BBC Shropshire, Radio 2XS and Radio Gets Wild, the Band have created a lot of interest.
In the summer of 2006, the Band entered Madhat Studios to create their Debut Album "World On Fire", produced by Mark Stuart (Magnum). The Album is scheduled for worldwide release in March 2007 on the Casket Label.
1. Mask
2. Loaded Too Late
3. Dying At Your Door
4. Hush A Bye
5. Victim #13
6. Weapons For Self-Expression
7. Revolution
8. Knowledge
9. Superstitious Woman
10. World On Fire
Password: Plotn08
Download album from UseNet -14 Days Free Access !
ANGEL HOUSE – WORLD ON FIRE (2007)
More than 800 TB of files are available. Usenet was developed before the Internet and is made up of over 60,000 discussion forums (Newsgroups) on any conceivable topic, in which opinions and files (e.g. videos, MP3s, software, games and erotic contents) can be exchanged.

| | | | |
| --- | --- | --- | --- |
| Buy mp3 or CD | | or | |