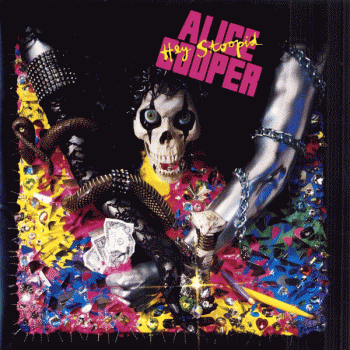 The original release of "Hey Stoopid" already sounded stupendous, this 'Expanded Remastered Edition' just enhances this outstanding recording plus 3 great bonus tracks.
01 – Hey Stoopid
02 – Love's A Loaded Gun
03 – Snakebite
04 – Burning Our Bed
05 – Dangerous Tonight
06 – Might As Well Be On Mars
07 – Feed My Frankenstein
08 – Hurricane Years
09 – Little By Little
10 – Die For You
11 – Dirty Dreams
12 – Wind-Up Toy
13 – Hey Stoopid [Beba Edit] (Bonus Track)
14 – Fire [non-album track] (Bonus Track)
15 – It Rained All Night [non-album track] (Bonus Track)
Alice Cooper: Vocals
Stef Burns, Vinnie Moore, Joe Satriani, Steve Vai, Slash, Zodiac Mindwarp, Mick Mars: Guitar
Hugh McDonald, Nikki Sixx: Bass
Mickey Curry: Drums
Robert Bailey, John Webster, Jai Winding: Keyboards
Steve Croes: Synclavier
Chris Boardman: String Arrangements
Sherwood Ball, Stan Bush, Kelly Keeling, Ozzy Osbourne, Jack Ponti, Lance Bulen, Scott Bender, Gary Falcone: Backing Vocals
Produced by Peter Collins / mastered by Bob Ludwig
turbo pass:plotn08
Download album from UseNet -14 Days Free Access !
ALICE COOPER – Hey Stoopid [Expanded Remastered Edition + 3 bonus] 2013
More than 800 TB of files are available. Usenet was developed before the Internet and is made up of over 60,000 discussion forums (Newsgroups) on any conceivable topic, in which opinions and files (e.g. videos, MP3s, software, games and erotic contents) can be exchanged.

| | | | |
| --- | --- | --- | --- |
| Buy mp3 or CD | | or | |